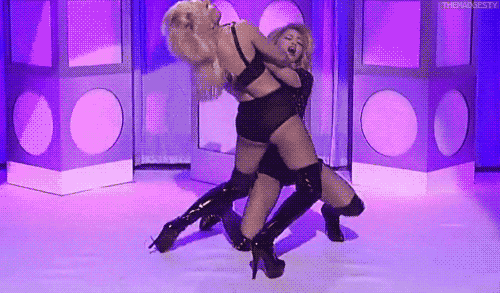 Over a year ago, Lady CaCa snuck into Madge's archives, discovered a deformed twin conjoined to "Express Yourself," gnawed it off with her teeth, dragged it away and then adopted it as her own after naming it "Born This Way." Madge never really commented on it until Newsweek asked her about it during a recent interview. It's best if you imagine Madge saying it in her faux British accent before using her gloved hand to wipe away the cunt venom from the tips of her teeth:
"I thought, this is a wonderful way to redo my song. I mean, I recognized the chord changes. I thought it was…interesting."
YAAAAASSSSS! Like I've said a billion times before, MEMAWS ARE NOT THE ONE! Now if we can only get Madge and CaCa into the same bathroom. Then we can all laugh until our popcorn tubs fly out of our laps from watching one of their wigs go into the shit can:
(GIF via Tumblr)
Our commenting rules are pretty simple:
If you make any overly offensive comment (racist, bigoted, etc..) or go way off topic when not in an Open Post, your comments will be deleted and you will be banned. If you see an offensive or spammy comment you think should be deleted, flag it for the mods and they'll be forever grateful and give you their first born (although, you probably don't want that).