Never mind the cell phone strapped to the waistband (!!!!!!!!) or the fact that he's dressed up more like a lesbian lumberjack buying a chainsaw at Home Depot than a butch bitch biker, Prince Hot Ginge straddled on a Harley is still making all of my pistons fire. Prince Hot Ginge has moved on from California to Arizona to continue helicopter training, and this past Friday he transformed into The Gingey Rider when he rented a Harley from a dealership in Scottsdale. This is the same Harley dealership in Scottsdale that I'm going to need you to stand guard in front of while I sneak in to make out with that bike's seat. You have my permission to mace me in the face if you see me putting a condom over one of those handlebars after pulling down my chonies. The ginger fever hits me the wrong way sometimes. I can't help it.
A witness tells The Daily Mail that the strands of pure bronze sprouting out of PHG's arms twinkled in the sun and blinded all motorists as he sped off for the open road with his bodyguard. The witness went on to say, "Harry looked like he definitely knew his way around a motorbike. It was Friday rush-hour traffic. He was on the freeway for a while before they hit the open road. He was weaving in and out of commuter traffic. He didn't even have proper leathers on or gloves. He rode like a pro."

You know, it's best that I let this moment from last night's Saturday Night Live describe my feelings about Hot Ginge on a Hog: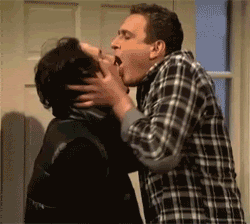 At this performance, the role of these PHG pictures will be played by Paul Rudd and the role of me will be played by Jason Segel.
Now if you'll excuse me, I have to go and practice my "grazing with a BIC" technique since the hanky code tells me that PHG gets into shaving shit. I knew there was a good reason for why the tingles overtake me when I get a whiff of ginger-scented shaving cream.
Our commenting rules are pretty simple:
If you make any overly offensive comment (racist, bigoted, etc..) or go way off topic when not in an Open Post, your comments will be deleted and you will be banned. If you see an offensive or spammy comment you think should be deleted, flag it for the mods and they'll be forever grateful and give you their first born (although, you probably don't want that).