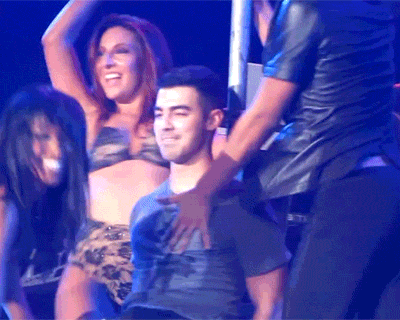 Before I shove my face into a huge bowl of shit stew with generous chunks of Kuntrashian, Bieber and Lohan, allow my eyeballs to get hypnotized by the hand traveling down to Joe Jonas' purity place at Brit Brit's show in London the other night. I love how Joe is serving up a "Guuurrrrrl, where do you think your paw is going? Fish, be gone!" darting side-eye at the lady dancer but doesn't have anything to say about the booty tooching (I hate you for putting that word into my head, TyTy) boy dancer doing the handjob shimmy down to his Magic Kingdom.
This GIF is already a star in the sparkling gay universe, but would it become the Big Dipper of gay constellations (SPOILER ALERT: the answer is yes) if I told you I have that same shirt Joe is wearing? It's the same shirt that some tramp at Duane Reade asked me if I got at Mandee's. Bitch, it's not from Mandee's! It's from Forever 21's men section, thankyouverymuch.
via WOW Report (Thanks Kenny!)
Our commenting rules are pretty simple:
If you make any overly offensive comment (racist, bigoted, etc..) or go way off topic when not in an Open Post, your comments will be deleted and you will be banned. If you see an offensive or spammy comment you think should be deleted, flag it for the mods and they'll be forever grateful and give you their first born (although, you probably don't want that).