Stacey Powell, the mortician from Texas on Survivor: South Pacific
Stacey slathers dead people make-up on corpses for a living and her entire Survivor strategy was to turn her enemies into corpses by slathering them with shank faces and fighting words. (SPOILER ALERT) It didn't work, but I did nearly cough out an immunity idol made of my internal organs from laughing so hard at her reading a bitch their rites. The bitch being Coach, mostly.
The island lost a stank eye-throwing jewel of raw bitterness last week when Stacey was voted out by her tribe of lying whore liars who will look homely and straight ugly in their coffins at their funerals because they screwed with the mortician with the mostest. Stacey went sent to that Restoration Hardware island (or whatever the hell that dumb island is called) to battle it out against that blonde chick. Stacey lost and is out of the game forever, so in honor of her I'm throwing out just three reasons for why I love her as much as Jeff Probst loves shell necklaces bought in a cruise ship gift shop.
3. During last night's episode, Stacey said this priceless and classic line about old her tribe members: "All y'all going to Hell with gasoline drawers!"
And their drawers will be soaked in STANDARD unleaded, because those opposite-of-truth-telling tramps aren't worthy of PREMIUM!
2. Last week, that snake in the ass Coach told Stacey that she was safe (she wasn't) and she threw this look of looks at the camera after he pulled her dick and walked away: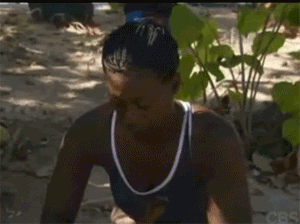 They should've put a censor bar over her face, because her eyes threw every cunt, fuck, bitch and asshole word with that one look.
1. Before Stacey went up against that blonde chick last night, she gave out of a mumbling mess of a speech where she warned the other tribe about Benjamin (aka Coach). Stacey took us to another planet and was filled with so much raw emotion that she started talking in Novocained tongues, because I had no idea what she was saying. If that creepy stalker Christian dude's vagina repeated Stacey's speech while gargling sea water, I probably would've understood it better. When Stacey gets fired up, her words melt!
GASOLINE DRAWERS! CHUCK E. THE CHEESES! The tribe in my heart has spoken and Stacey is the winner! Pack up your torches and go, bitches!
Our commenting rules are pretty simple:
If you make any overly offensive comment (racist, bigoted, etc..) or go way off topic when not in an Open Post, your comments will be deleted and you will be banned. If you see an offensive or spammy comment you think should be deleted, flag it for the mods and they'll be forever grateful and give you their first born (although, you probably don't want that).