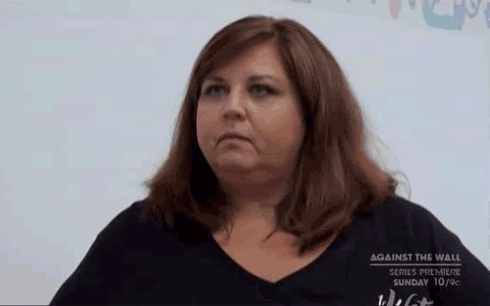 ABBY LEE MILLER!!!, the legendary sea witch who crashed onto the shore many years ago with the decision in her cold seaweed heart that she will stop stealing voices from young girls and instead steal their souls and spirit through the art known as DANCE!!!
In honor of the season finale of Dance Moms (alternate title: Psychotic Bitches and the Traumatized Daughters Who Love Them) airing tonight, it's only right that we all bow down to the monster queen who drinks the tears of children with her Cremora water every morning and spreads their blood on her Everything Bagel for breakfast.
Abby Lee is the head slave driver at the Abby Lee Dance Company and when she's not harvesting the greatest Broadway stars of our generation in her rented Pittsburgh studio, she's unleashing the kind of crazy that drives mothers to the bottle and to the straitjacket. It's like if Fat Bastard dropped the accent and picked up the finest clothes from Capezio's Plus Size line. I love Abby as much as sandpaper loves the sound of her raspy witch voice that could rub the shine off of sequins. If you're not a disciple of Abby Lee, then throw up a jazz hand and take these words that came out of her beast mouth as your new commandments:
"When a parent opens their mouth, they are ruining their child."

"You uneducated mess. Quit drinking!!!!"

"Suck it up. I don't want to see those tears."

"I've got 911 on speed dial!"

"Girls what are you doing? Those legs are about as straight as Elton John."

"Kids should be crying if their arm is broken and hanging off or if someone dies. That's it."

"Thou shall not lie, thou shall not steal, and thou shall not disrespect Abby."
And we all pray as we put our hands on the mangy fur of Abby's fat bitch of a poodle Broadway Baby……
(GIF via FYDM)
Our commenting rules are pretty simple:
If you make any overly offensive comment (racist, bigoted, etc..) or go way off topic when not in an Open Post, your comments will be deleted and you will be banned. If you see an offensive or spammy comment you think should be deleted, flag it for the mods and they'll be forever grateful and give you their first born (although, you probably don't want that).