Looking like a young Ray Romano's failed audition for the Dustin Hoffman role in Midnight Cowboy, Lady CaCa busted into a way too long high school drama class monologue at the beginning of the MTV VMAs tonight. This shit made me wish that the MTV censors mistook Caca for Andrew Dice Clay and banned him all over again. How are you going to untuck your tuck and not bring any bulge to the stage? For once, Brit Brit's heavily medicated face said it all so I didn't have to: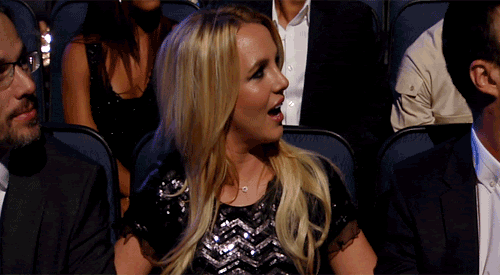 Brit Brit is either wondering why she's the one with a conservator and can't even wipe her possum poon without a handler standing over her to hand her a court-appointed piece of toilet paper, or she's wondering why the Middle Eastern mechanic she huffed freon with during her gas station hopping days is on stage at the VMAs.
And here's Brit Brit with her piece Jason Trawick. Nothing takes a dude from Sam Merlotte Lite to Willard like a middle part.
Our commenting rules are pretty simple:
If you make any overly offensive comment (racist, bigoted, etc..) or go way off topic when not in an Open Post, your comments will be deleted and you will be banned. If you see an offensive or spammy comment you think should be deleted, flag it for the mods and they'll be forever grateful and give you their first born (although, you probably don't want that).