TLC's Strange Addiction sometimes seems like a complete act of fiction starring shit actors who can't even get a job doing the dramatizations on America's Most Wanted and sometimes it seems an act of real life lifted straight out of the mind of David Lynch. I'm really not sure which category last season's finale falls under, but I do know that Keith Richards approves!
26-year-old Casie was left completely devastated after he husband died of an asthma attack and she had a hard time letting go which caused her to carry around his ashes in an urn wherever she went. That's not the "strange" or "addiction" part of her strange addiction. One day, Casie got a bit of her husband's ashes on her finger and she felt guilty about just wiping him away so she put it in her mouth and ate it. That unlocked a craving in Casie and she swallowed about one pound of his ashes in just two months. To which, my only response is: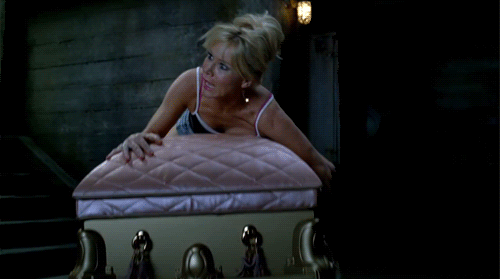 Jezebel says that Casie thankfully got help and checked herself into a mental facility that didn't allow her to bring her husband's ashes. Casie didn't get help, because turning your stomach into an ash tray isn't healthy. Casie got help, because she's running out of ashes to eat and she doesn't know what she'll do if that happens. I thought the same thing and then got the image of Casie pooping over a different urn, which made me once again realize why I have a reserved seat on the Chinatown bus to Hell.
I can't judge Casie, because if I watched Mah Boo Anderson Cooper throw a used cigarette into the trash after sucking on it, I can't say I wouldn't take it my bedroom and cigarette butt fuck it if I ain't being too subtle.
(Video via ONTD, GIF via Joobear)
Our commenting rules are pretty simple:
If you make any overly offensive comment (racist, bigoted, etc..) or go way off topic when not in an Open Post, your comments will be deleted and you will be banned. If you see an offensive or spammy comment you think should be deleted, flag it for the mods and they'll be forever grateful and give you their first born (although, you probably don't want that).