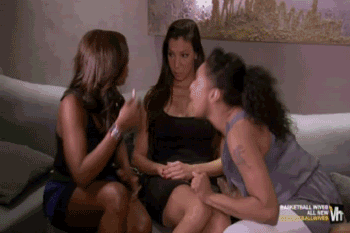 Tami "It Wasn't Not Funny" Roman strikes again. On last night's Basketball Wives, Meeka and Tami both crawled into the ring at a club in Rome to battle it out after the former talked shit about the latter to Slow Suzie (the trick in the middle). Anybody who has seen 10 seconds of Tami in all her reality show glory should know not to turn your eyes away from her during a fight or she will give you a surprise in the form of a palm to the damn face. BITCH GOT PALMED! Tami patty caked Meeka right in the face and let that bitch's nostrils know whether or not she washed her hands after wiping her ass. Tami stop in the name of love-ed that bitch!
Even Suzie, who is always operating on a 10-second delay, closed her eyes real quick and prayed that she also wouldn't be stumbling back to the hotel with Tami's palm print on her face. It's a good thing that greasy ass Meeka's face pores naturally secrete Vaseline or else she would've had Tami's palm print on her face. Meeka's face is always prepared for a brawl.
If you need to see the violent face palm felt around Rome in action, here you go:
What would Bethasaurus say about this mess?
Our commenting rules are pretty simple:
If you make any overly offensive comment (racist, bigoted, etc..) or go way off topic when not in an Open Post, your comments will be deleted and you will be banned. If you see an offensive or spammy comment you think should be deleted, flag it for the mods and they'll be forever grateful and give you their first born (although, you probably don't want that).