In a move that even Alison the Slycic's e-cig could've predicted, The Real Housewives of Beverly Hills' Taylor Armstrong has dropped divorce papers in the lap of her cunt-hearted creeper husband Russell Armstrong after 6 years of marriage. Russell is going broke and it's obvious to everyone that Taylor only married him for his cash, so she's doing what every gold digger should do when her shovel comes up empty: bitch is packing up her pool noodle lips and getting out of there.
Out of fear that the gallons of collagen in her lips will burn off from all the quivering it does while she cries about how empty her husband's checking account is, Taylor Lipstrong tells People that she has decided to leave his ass for good.
"It was a difficult decision but I have decided to file for divorce from Russell. Although we have tried our best to work out our differences, I have come to the conclusion that it is in the best interest of our family that we separate. Together we are the proud parents of a sweet and wonderful little girl and she remains my number one priority. I am sad for my marriage to come to an end, but am confident that this is the right choice for all involved."
Taylor is a superficial, puppy-hating, annoying gnat that looks like she just crawled out of a vat of acid in Gotham City, but Russell is just ugh. I don't know how she boned that shit. Russell probably prints out a really complex Excel spreadsheet, tapes it to the headboard and licks it as he does Taylor missionary style. I just… No. But at least, Taylor will soon be free to marry her real love: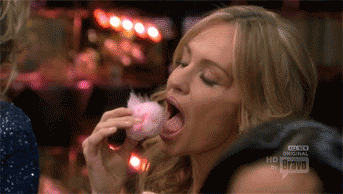 COTTON CANDY!
Our commenting rules are pretty simple:
If you make any overly offensive comment (racist, bigoted, etc..) or go way off topic when not in an Open Post, your comments will be deleted and you will be banned. If you see an offensive or spammy comment you think should be deleted, flag it for the mods and they'll be forever grateful and give you their first born (although, you probably don't want that).