Last season on The Real Housewives of Orange County, Tamra's rape-eyed douchefart of a son Ryan had to get a huge growth in his tit removed because he tapped his ass cheek with the roid needle way too much. When Ryan said that he ejaculated Canseco syrup into his butt veins to get as big as a He-Man doll but ended up with a pair of titties milanese, I wondered if roids also made his peen shrink and shrivel down into the size of Alexis Bellino's brain?
(NSFW) Isayoneup has the answer to that question! Maybe. They posted a picture of someone who is supposedly Ryan doing the dick pic pose equivalent of sucking the gut in. Dude is choking his shit so hard that it's swelling up and the head looks like Lego Lady hair. But it doesn't look like roids ate a chunk out of his dick situation. Or maybe they took the growth that they removed from his tit and shoved it into his dick to meat it up a bit? Possible. Anyway, (NSFW) click here or here to see Ryan asphyxiating his peen.
Tamra could not be reached for comment since she was hiding out in Gretchen's front yard bushes and the service there sucks, so we'll have to settle for the latter's response instead.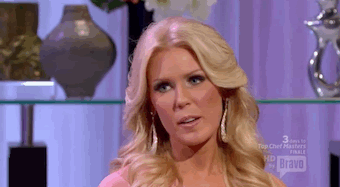 Oh, Gretchen! Don't stress your frozen eyelid from trying to roll your eyes at this. You know Slade Smiley's got an overcooked penne noodle for a peen and has to splint it with a broken off Popsicle stick just to get it in (Copyright: AH).
Our commenting rules are pretty simple:
If you make any overly offensive comment (racist, bigoted, etc..) or go way off topic when not in an Open Post, your comments will be deleted and you will be banned. If you see an offensive or spammy comment you think should be deleted, flag it for the mods and they'll be forever grateful and give you their first born (although, you probably don't want that).