Monday, April 18th 2011
Hot Slut Of The Day!
Jack Jason, Marlee Matlin's longtime personal interpreter, business partner and the hardest working hands in show business (next to Beyonce's wig tamer and Gerard Butler's full-time peen masseuse)! Every week when I step into the circus of ridiculousness that is Celebrity Apprentice I'm always mesmerized at how Jack Jackson manages to accurately interpret the bizarre happenings and fucked up fuckery that comes jumping out of those crazies' mouths.
How does Jack Jason interpret the poetic acid farts that Gary Busey burps up (which aren't even indistinguishable English words)! Maybe Jack Jason makes the letters "W-T-F" with his fingers and moves on. And do you think he makes his fingers smaller when he interprets Detective La Toya's 5-year-old kitten princess voice? I'm sure he does, and he always does it with finesse and grace!
Sometimes when the bong smoke is really flowing, I'll mute the Celebrity Apprentice, blast Madonna's "Vogue" and allow Jack Jason to take it away! Jack Jason can sashay with his hands!
And one of my favorite Jack Jason moments of the season happened a few episodes ago when the women's team won nearly $1 million for Marlee's charity. Jack Jason did this: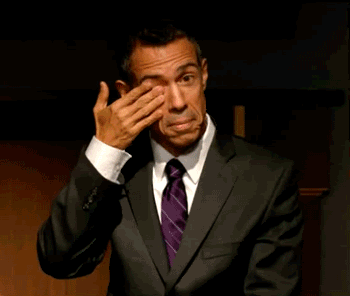 He even interprets Marlee's tears! How do you say "Jack Jason, you're the number on my hussy heart?" in sign language talk?