Let's recap. Sarah Lane, an ABT soloist who was one of two ballet doubles for Natalie Portman in Black Swan, already said that she did most of the twirling and leaping in the movie, but the producers wanted everyone to believe that it was Natalie so they told her to keep her lips shut. Sarah didn't. Benjamin Millepied, the movie's choreographer and half of the reason why Natalie's got a womb full of baby, retaliated by saying that his fiancee worked her toes off to move like a real dancer and that 85% of it was her.
Well, Sarah Lane is back and is hitting back at Benjamin with a giant NOPE. Sarah tells Entertainment Weekly that Benjamin needs to look at his abacus again and recalculate some shit, because Natalie did about 5% of her own dancing. THE PLOT THINS! Sarah went on:
"The shots that are just her face with arms, those shots are definitely Natalie. But that doesn't show the actual dancing. They wanted to create this idea in people's minds that Natalie was some kind of prodigy or so gifted in dance and really worked so hard to make herself a ballerina in a year and a half for the movie, basically because of the Oscar. It is demeaning to the profession and not just to me. I've been doing this for 22 years…. Can you become a concert pianist in a year and a half, even if you're a movie star?

I mean, from a professional dancer's standpoint, she doesn't look like a professional ballet dancer at all and she can't dance in pointe shoes. And she can't move her body; she's very stiff. I do give her a lot of credit because in a year and a half she lost a lot of weight and she really tried to go method and get into a dancers head and really feel like a ballet dancer."
Benjamin answered back with: 85%
Sarah: 5%
Benjamin: 85%
Sarah: 5%
Benjamin: 85%
Sarah: Okay.
Benjamin: Yay.
Sarah: JK.
Benjamin: Damn. ……80%?
Are we really getting into the percentage game?! Sarah wants credit and Benjamin isn't going to give it to her. Or something. This is about as confusing as the damn movie. (SPOILER ALERT) When are we going to get to the part where when one of them stabs the other with broken glass and shoves 'em in a closet? Let's fast forward X10 to that part already. Actually, let's not. Instead let's go back and watch Winona Ryder say "Did you suck his cock? on a loop: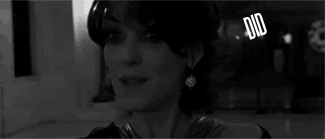 Now this is a game I like!
(GIF via Artistic Bitches)
Our commenting rules are pretty simple:
If you make any overly offensive comment (racist, bigoted, etc..) or go way off topic when not in an Open Post, your comments will be deleted and you will be banned. If you see an offensive or spammy comment you think should be deleted, flag it for the mods and they'll be forever grateful and give you their first born (although, you probably don't want that).