Helena Bonham Carter is sort of, kind of a little too famous for the Order of the Hot Slut, but she really threw the look of the night and deserves all kinds of accolades for that shit. A look that clearly expresses everyone's feelings about that entire Oscar sleepy shit show. If there was a GIF of Kirk Douglas taking a slobbery nap backstage on a metal folding chair while holding a clear plastic cup full of white wine with ice cubes in it, that would "our feelings GIF" about the Oscars. But I searched and that GIF does not exist, so thankfully Helena Bonham Carter came to the rescue when she busted this out after they read off her name for the Best Supporting Actress category: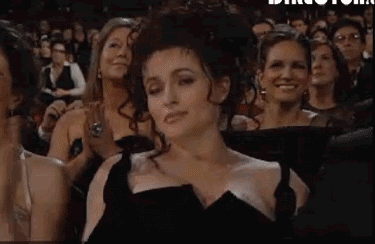 Yup, I had what she had and that's exactly why I made an "Err. Uh. Pass the flask" face all night. When you're slumped in your cubicle this morning trying to fight the awake coma that the Oscars and the Mondays put you in, you can use this GIF to answer all of your co-worker's dumb questions. "Did you watch the Oscars last night?" Show this GIF. "What did you think of James Franco?" Raise this GIF. "I thought Gwyneth Paltrow looked wonderful and sounded even better!" Turn this GIF into a set of stills, print those stills out, roll them up into a thick paper bat and slap that ho in the mouth for uttering such nonsense. So we must thank HBC for this.
And I must also thank her for melding all of my sister's past prom 'dos into one hairstyle last night.
Our commenting rules are pretty simple:
If you make any overly offensive comment (racist, bigoted, etc..) or go way off topic when not in an Open Post, your comments will be deleted and you will be banned. If you see an offensive or spammy comment you think should be deleted, flag it for the mods and they'll be forever grateful and give you their first born (although, you probably don't want that).