Looking like she just rolled out of a past due Buitoni carton, Lady Gaga performed her new single Born This Way for the first time on the Grammys last night. The foolery is here in case you missed it. It looked like Parasite Hilton's lady condom finally breaking free and celebrating its freedom. It also looked like what you see when you drop acid and stare at a bowl of wet pasta noodles for an hour straight. A mess in need of some Prego.
But that wasn't the only "THE FUCK?" moment that billowed out of Gaga's tuck. When she won Best Pop Vocal Album, she gave a special thanks to a special someone who served as an inspiration for Born This Way. Nope, not Madge. Gaga gently squeezed one of Whitney Houston's stubborn doody bubbles when she said:
"I need to thank Whitney Houston. I wanted to thank Whitney, because when I wrote 'Born this Way,' I imagined she was singing it — because I wasn't secure enough in myself to imagine i was a superstar. So, Whitney, i imagined you were singing 'Born This Way' when I wrote it."
Klingon Madonna say what?! With all the talk that Born This Way is just a Dolly-fied version of Express Yourself, I really thought she would address this shit by singing a verse of EY or something. But no, Caca gives a subliminal kick to Madge's memaw crotch by thanking Whitney. Whitney is not convinced, though. She responded with this: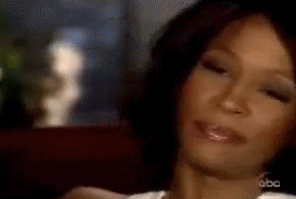 Here's more of the movie make-up school drop-out recycling Madge's old Blonde Ambition ponytail at the Grammys last night where she posed with Willow Smith.
Our commenting rules are pretty simple:
If you make any overly offensive comment (racist, bigoted, etc..) or go way off topic when not in an Open Post, your comments will be deleted and you will be banned. If you see an offensive or spammy comment you think should be deleted, flag it for the mods and they'll be forever grateful and give you their first born (although, you probably don't want that).