My TV screen was once again covered with Vaseline, rogue wig hairs, sequins, pussy cunt glares and bronze powder dust thanks to the return of RuPaul's Drag Race (aka Xtina's favorite beauty tutorial)!!! Last night's episode was business as usual with a whole new set of queens except for season 2's Shangela who was pulled out of Ru's sweat shop wig factory (where all past contestants go to work off their room and board) to twerk her tuck and lip-synch like she's trying to give Alan Fawcett a boner he won't ever forget. And once again, Shangela found herself in the bottom bitch 2 with Madonna impersonator Venus D Lite. But Shangela's sloppy ass deserved it, because she whipped up a shitty Christmas ensemble made of a torn paper lantern and the metallic tree tinsel my abuelita would never let us buy because she was afraid it would electrocute her (Yeah, I don't even….).
In the clip above, Shangela and Venus lip-synch for their lives in a rumble tumble mess of a battle. Polyester hair flew across the room, boy nipples came popping out, taints slapped the floor and struts were delivered with an extra spark shooting off their bare heels. It was pretty much what Thanksgiving at the Knowles house looks like when Basement Baby goes against Beyonce's wishes and sits anywhere but the kids table.
Even though Venus D Lite charged at Shangela like Madge chasing after a Brazilian virgin boy, not one inch of dick came creeping out of their panties to call a time out. No tuck came undone! Just like at the Knowles house!
Venus D Lite was eventually sent home to pray before her Immaculate Conception candle that Madge doesn't upgrade the silicone cutlets in her cheeks. You see, Venus told the queens that she's had plastic surgery to look like Madge. That's kind of fucking funny if you think about it, because Madonna had plastic surgery to NOT look like Madonna.
And it goes without saying, but right now my favorites are Stacy Layne Matthews from Black Swamp, North Carolina: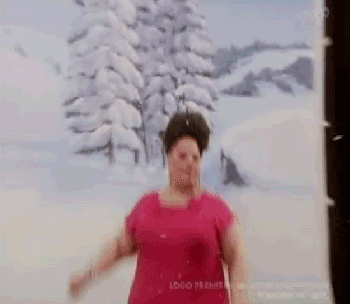 I could watch that ho put that trampoline to the test forever.
And my other favorite is Raja who is best known as Sutan the make-up artist from America's Next Top Model.
Strangely enough, Raja sort of looks like Tyra Banks in that picture. Well, if Ty Ty's infintyhead traveled down south, scared her titties away and found a permanent new home on her chest.
Our commenting rules are pretty simple:
If you make any overly offensive comment (racist, bigoted, etc..) or go way off topic when not in an Open Post, your comments will be deleted and you will be banned. If you see an offensive or spammy comment you think should be deleted, flag it for the mods and they'll be forever grateful and give you their first born (although, you probably don't want that).