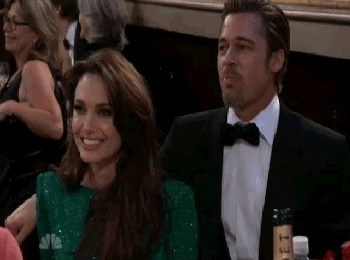 While Matt Damon honored Robert DeNiro with some fancy award at the Golden Globes (Yes, we're still on those damn Golden Globes) last night, the camera cut to Angelina Jolie applying a thin layer of lip gloss like real women folk do! Saint, please. You know what she was trying to do. Angie promised to forgive all of the executive producer's sins as long as he cut to her doing a menial "human being task" like lip gloss application. Angie wants us to think that her lips aren't made of Athena's labia and therefore don't require lip gloss to keep them luscious. Bitch is trying to be one of us, but you can't trick a trick.
You can't tell from that GIF, but three seconds later Angie handed the gloss wand to one of her servants who immediately transported it to a third world country where it was used to plump the mouth of a needy orphan with tragically thin lips. Angie's lip dust has the power.
As for Angie's dress, some people said that she and Brad Pitt looked like they just fell out of an episode of Dynasty. Um. Those people need to go back to community college to earn more Dynasty credits, because even Alexis Carrington wouldn't wish that fug ass dress on her greatest enemy. That dress looks more like something a memaw of the bride might buy at a JcPenney in 1979. But a memaw of the bride would have the SENSE to wear it backwards.
And she really should've applied some gloss to her forehead vein instead.
Our commenting rules are pretty simple:
If you make any overly offensive comment (racist, bigoted, etc..) or go way off topic when not in an Open Post, your comments will be deleted and you will be banned. If you see an offensive or spammy comment you think should be deleted, flag it for the mods and they'll be forever grateful and give you their first born (although, you probably don't want that).