The hardest working British mother in the world found time in her non-stop schedule of sending spoon fulls of citrus-flavored flax seed oil down Starfruit's throat and writing lists about lists to host Saturday Night Live last night. I pretty much had to hang upside down over the edge of my sofa and fill my mouth hole with bong water shots to get through it, but there was a silvery light in the middle of the GOOP sewer tunnel!!!
In between Fishsticks Paltrow making the animatronic children from It's A Small World cry with her butchering of every single language and accent, Mah Boo Anderson Cooper saved us all with an appearance in the digital short starring Andy Samberg and Pee-wee Herman.
Mah Boo is the sexiest shot-loving battery victim in TV history, right? A new fetish has been born.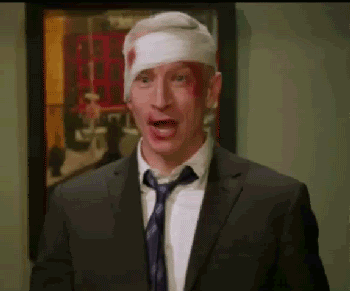 That GIF is pretty much going to swallow up all my time today since it looks like Mah Boo is excitedly ejaculating a shot glass. Grab a taller ladder, because I need to add another layer of love for Mah Boo.
Our commenting rules are pretty simple:
If you make any overly offensive comment (racist, bigoted, etc..) or go way off topic when not in an Open Post, your comments will be deleted and you will be banned. If you see an offensive or spammy comment you think should be deleted, flag it for the mods and they'll be forever grateful and give you their first born (although, you probably don't want that).