You can spend the next 35 minutes of your life doing all sorts of things. You can spend it trying to get a first-hand account of the saying "like watching paint dry." You can watch this clip of a cat eating an apple 68 and a half times in a row. You can shave your crotch bush into the shape of a Christine O'Donnell witch for Halloween. Or you can watch the 35-minute long moving Stereogram Kanye West is calling a short film titled Runaway. A short film that is best viewed with a fully stocked bong shoved down your froat.
Runaway co-stars Selita Ebanks as some kind of fallen Victoria's Secret phoenix who Gay Fish takes around and shows what his world has to offer. Examples of what Gay Fish's world has to offer: woodland creatures, a gigantic Michael Jackson head float, kids in red KKK hats and ballerinas. Basically, this is what it looks like when someone spikes the punch with liquid LSD at an Illuminati pot luck. This is also the visions Kanye sees when he busts out a self-produced orgasm.
One thing that Kanye's latest work of art taught me is to never serve a phoenix a gay turkey that looks like something out of one of Sandra Lee's Thanksgiving tablescapes. Seriously, the phoenix will freak the hell out and ruin dinner for everybody!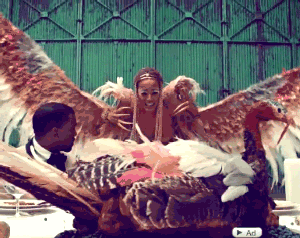 Wait. That craft project turkey totally represents Taylor Swift, right?
Our commenting rules are pretty simple:
If you make any overly offensive comment (racist, bigoted, etc..) or go way off topic when not in an Open Post, your comments will be deleted and you will be banned. If you see an offensive or spammy comment you think should be deleted, flag it for the mods and they'll be forever grateful and give you their first born (although, you probably don't want that).