But Vicki and Donn just renewed their vows in a romantic beach ceremony last year!! But Donn promised to always keep Vicki's tank full of unleaded love!!! Oh well, I guess Donn must have put a CLOSED sign on his pump, because Vicki of The Real Housewives of Orange County has filed for divorce. Because this GIF never gets old for me, here is a dramatization of Vicki and Donn's marriage: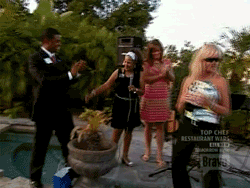 Aw. TMZ says that Droopy Dog's long-lost sister filed papers to legally quit Donn's ass on Monday. They have been married for 16 years.
Anybody who watches this mess knows it was only a matter of time before this happened. Or it was only a matter of time before Donn was seen running naked along the 5 freeway while sticking hot chopsticks into his ears and begging to be put out of his misery. Basically, the show makes it look like living with a Gremlin is more pleasant than living with Vicki. Besides, Vicki doesn't have time for marriage. SHE'S TOO BUSY WORKING WORKING WORKING!
And does this mean that next season we will get an eye full of Tamra's rapey-eyed son groping on Vicki in the bathroom? Brace your stomachs just in case.
Comments